The clothes pegs can pinch if you don't clip enough skin/fur into the grip of the clothes peg, so make sure you have enough skin in them to create pressure, but not pinch the cat. Gather as much skin into one hand and hold it up while you place the clip down as far as possible with the other hand. Most cats should relax almost immediately.

The effect is very similar to the way rabbits trance when you flip them on their backs. When I still had Bijou I used this on her and she acted like she was in a trance.  She hated having her nails done and I used to do one at a time. Once I learned about this I put the clothes pegs on her, she rolled over, purred and let me do all 10 at once.

Bonnie is not a placid kitty. As a matter of fact she is a very high strung cat but this calms her right down to where I can quickly and easily clip her nails. I had not tried this on her before taking this picture and you can see she just lays there quietly. Toby is another story altogether. I have done this on him a number of times before. He just lays there then rolls over on his side letting me do pretty much anything I want to him. I had to coax him to sit upright so I could take the pictures for this page.

The Clothes Peg (Clothes Pin) Trick

You take standard wooden clothes pegs (clothes pins), and clip the scruff of the cat's neck starting at the back of the skull where the skin is loose.

These old fashioned wooden clothes pegs are still available in hardware stores and other retail places. I picked a package up in a Dollar Store.

You attach three or four clothes pegs side-by-side to form a "ridge" down the centre of the back of the neck. Some cats might need to have as many as six clothes pegs placed there for it to be effective. It looks just like a "kitty mohawk" when done properly.

Be sure to "clip the kitty" when he or she is calm. It won't work once the cat is upset and squirming to get away.  I always do mine when they are sleeping or at night when we are ready to quiet down for the night. Toby now thinks this is part of our bedtime routine.

I put the pegs on my cats once in awhile even when I am not intending to clip their nails. I think it feels good to them and they will associate the pegs with pleasure rather than only getting their nails clipped.

Before I start explaining this I must really stress the importance of knowing what you are doing before you attempt to clip your cats nails. If ít isn't done properly it can be not only painful for the cat but can cause infection. Needless to say once you slip, your cat will never let you clip its nails again and clipped nails are absolutely essential to a healthy, happy kitty.  Sometimes nails left untrimmed can cause the nail to grow into the pad. If that happens it can lead to all kinds of problems and expense at the vets which could have been avoided.

Here is an excellent lesson if you don' t know the proper procedure.

Please take a moment to make sure you are doing it correctly.

Whether you use this method or not, you may consider not doing all 10 nails at the same time. If your cat is really stressed out when you do this, then just do 2 or 3 at a time and let the cat go. Next time do a few more. It is better than the alternative. Even if you only do the very tips, it is better than leaving them unclipped.

A scratching post or tree is not just for spoiled or pampered cats. They are also important tools for a cats grooming because sharpening nails is a natural function. They will also encourage them not to use the furniture.

If your cat wriggles or gets stressed when you try to clip its nails,  try the clothes peg (clothes pin) trick: this is a form of acupressure recommended by an acupuncturist vet. Below my Toby and Bonnie model how this works.  It may be acupressure but I am sure it also has something to do with the mother cat carrying around its babies like this.  I think it may remind them of when they were newborns.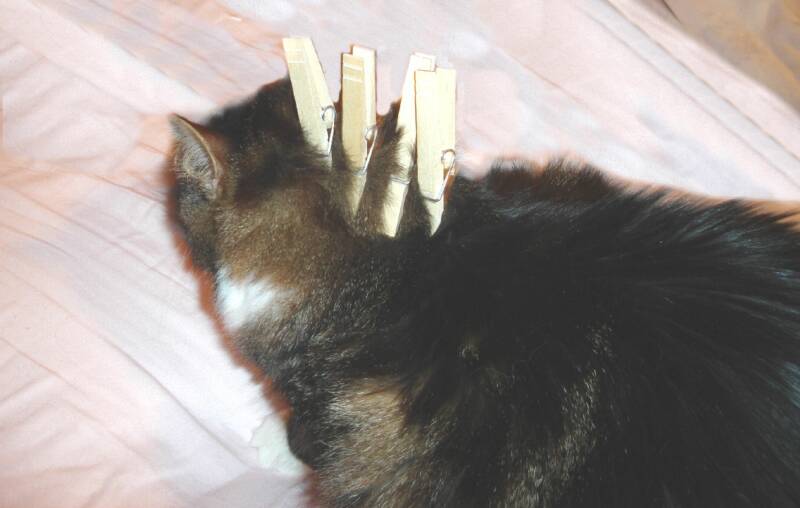 Clipping a cats nails is not only responsible

but essential to a happy, healthy kitty

BEFORE YOU LEAVE PLEASE TAKE A FEW MINUTES TO SEE THE REST OF THIS BEAUTIFUL TRIBUTE MEMORIAL SITE FOR MORE INTERESTING READING AND ADVICE

BOOKMARK US SO YOU CAN COME BACK

THERE IS ALWAYS SOMETHING NEW HERE

EASY SOLUTION TO CLIP CAT NAILS