PREPARING YOUR PET FOR A DISASTER

In the days following Katrina there were many disturbing pictures and stories of pets left homeless. Their owners may have been unable to take them to safety or worse, could have been fatalities themselves.

Katrina taught a lot of lessons, particularly about pets in case a disaster hits your home or your area.

The following links contain advice and suggestions compiled by various agencies to help avoid pet casulties and prepare yourself and your pet to survive a disaster.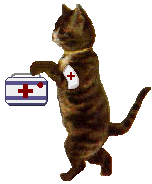 CLICK HERE TO RETURN TO INDEX PAGE

for TRIBUTE MEMORIAL

Don't Forget About Seniors, Invalids and your Neighbours  

They May Need Help with Their pets

CLICK ON ANY TITLE TO BE TAKEN TO THAT SITE